Guardians of the Heart by Loree Lough Review & Blog Tour
Guardians of the Heart
(Secrets on Sterling Street, #2)
by Loree Lough
Historical Romance
Paperback & ebook, 272 pages
August 3rd 2015 by Whitaker House

Nell Holstrom wanted no part of her grandfather's barren gold mine that had taken the lives of her mother, father, and younger brother; even if there may still be hidden wealth inside. Instead, she went to Denver and took a job as housekeeper at the old Stone Hill Inn.
Asa Stone was barely more than a boy when his father dragged him and his brothers to fight with Colonel John Chivington. But Asa refused to participate in the raid on the peaceful Cheyenne and Arapahoe; and when the smoke cleared, his father and brother lay among the slaughtered. Besieged by guilt, Asa wandered the West for years before returning to Denver to rebuild the old inn he'd inherited.
Together, Nell and Asa work hard to restore Stone Hill. But when disaster hits the inn, Asa retreats into despair and Nell is forced to return to her family's mine. Asa faces the hard fact: He'll never be the man Nell deserves. Can he overcome the dark secrets of his past? And will Nell still love him when she learns the truth?
The First Book in the Series
Currency of the Heart
(Secrets on Sterling Street, #1)
by Loree Lough
Historical Romance
Paperback & ebook, 256 pages
January 1st 2015†by Whitaker House

Young widow Shaina Sterling hates living a lie. Desperate to keep bill collectors from the door, she secretly sells valuable possessions piece by piece, and hopes Denverís elite never discover that his lavish lifestyle left her a near pauper.
Sheís unaware that as her husband lay dying, successful rancher Sloan Remington made him a promise. And Sloan guards her secrets†as carefully as he looks after her safety.
When fire devours Sterling Hall, leaving her homeless and penniless, he brings her to Remington Ranch to manage his household. His kindness makes Shaina beholden to him Ö and threatens to expose the secret that could destroy him.
Will trials and tragedies bring Sloan and Shaina together?
Or will secretsóand the cost of exposing themódrive them apart forever?
My thoughts:
I could not put this book down it was wonderful.  Shaina is trying to keep everyone happy except her self.  She is trying to keep things going and keep her secret close to her heart.  Sloan is trying to take care of her but she has problems letting him in.  Once she comes around the whole world starts to change.
A nice relaxing read that brings out the love and coziness.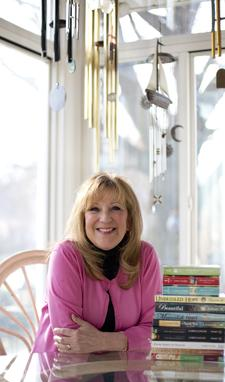 With 105 books (5,000,000+ copies in circulation!), best-selling author Loree Lough's†stories have been compared to those by Nicholas Sparks, and she has been dubbed by readers and reviewers as ìa gifted writer whose stories touch hearts and change lives.î
With a long list of industry awards, it isn't likely this prolific author will ever retire…not even to her cozy li'l cabin in the Allegheny Mountains. She loves to hear from her readers and personally answers every letter sent tohttp://www.loreelough.com/.
Tour Schedule
8/16 – Launch
8/17
Dreams Come True Through Reading,†Bookworm Lisa,†Worthy2Read, &†Rockin' Book Reviews
8/18
Zerina Blossom's Books,†Reading Is My SuperPower,†Christy's Cozy Corners, &†Mommabears Book Blog
8/19
Tell Tale Book Reviews,†Writing Pearls, &†underneath the covers
8/20
Mel's Shelves,†Babs Book Bistro,†Hardcover Feedback, &†Mortal Moments
8/21
Diana's Book Reviews,†Cafinated Reads, &†Singing Librarian Books
8/22 – Grand Finale
Tour Giveaway
$25 Amazon Gift Card
Print copy of Guardians of the Heart
Kindle copy of Guardians of the Heart (to be gifted through Amazon)
Open internationally
Ends August 29th